Made this again last night. Once a month, you should make this once a month.
one foodie and his food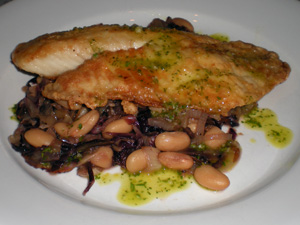 I make this meal all the time, it's quick, it's easy, it's cheap and it's delicious. The recipe is from Giada De Laurentiis of Food Network fame. Try it, you'll like it.
Giada calls this dish White Fish with Lemon Vinaigrette but would call it lemon vinaigrette with some other stuff. The vinaigrette is awesome. Let's face it, tilapia doesn't have a whole lot of flavor. It is firm with a good texture but pretty plain. The vinaigrette wakes this fish up.
I love cannellini, or white beans. I have been putting them in more and more recipes because of their mild creamy texture. Matching the beans with the tart almost sourness of the radicchio is brilliant. That all matches perfectly with the citrus and herbs in the vinaigrette and the crispiness of the tilapia. This meal is so light and refreshing.
INGREDIENTS
8 tablespoons extra-virgin olive oil
3…
View original post 256 more words